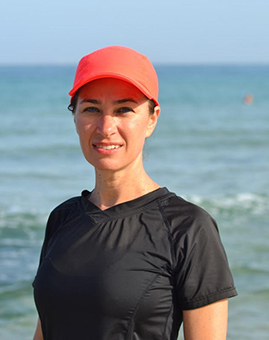 We are at our best when we have strength and energy. Think about it: Isn't it true that we feel at our best when we're constantly in action, realizing our values? For me, sport is a way of expressing a healthy and free life. Running, especially, is a special time for me. It gives me the opportunity to breathe well and get energized. When I run, I realize myself. Most importantly, running lets me be who I am in my daily life, both while I run and afterward. It's the only way I'm really at my best.
blive provides a solution for women who want to exercise yet maintain modesty. Women who uphold traditional lifestyles often give up on looking for comfortable and modest sportswear, and end up exercising in uncomfortable clothes. Quite a few religious girls express dissatisfaction with their bodies and clothing while they exercise. However, when they wear my sportswear, they enjoy exercising and maintain their modesty.
All fabrics I use are professional and sweat absorbent. When I create a garment, I first try it on myself while I run. I check whether or not I'm satisfied with how it feels on me, and if I'm not, I immediately start from scratch and try something else. It often takes me a long time to develop a new outfit, as I will not compromise my comfort! You're invited to try my sportswear for yourself. I'm 100% sure you'll understand what I'm talking about.